---
---
Sandals Grande St. Lucian
Spa & Beach Resort :

Location: St. Lucia
Rooms: 280

On an island so "simply beautiful" the French and British fought over it for over 150 years, lies a Five Diamond resort considered the Caribbean's grandest new addition. Set on it's own spectacular peninsula surrounded by the sea on both sides, the resort offers breathtaking vistas of the bay and the mountains on one side and the island of Martinique's distant shores on the other. Sandals Grande St. Lucian Spa and Beach Resort, where the views will steal your soul and the staff will steal your heart.

Bask in the countless pleasures of paradise on a "grande" scale. Where the world-class amenities of a Sandals Signature Spa Resort include the option of an elaborate European Spa*. Built in the style of a British palace where majestic stone archways lead through a three-story open-air lobby, Sandals Grande St. Lucian is framed by spectacular mountain views and edged by the island's most dramatically perfect beach - an endless stretch of sparkling white sand. Indulge in everything aquatic from scuba-diving to swimming in a choice of four impressive pools - including a creative lagoon pool that lets guests swim right up their rooms. There's hiking at neighboring national parks and golfing at Sandals Regency St. Lucia nearby. Best of all everything is your merely for the asking - without compromise.

Imagine swimming right up to your room and taking a morning dip into a shimmering lagoon-style pool, right from the very threshold of your verandah. Such are the exotic pleasures of a stay in one of our Lagoon Rooms. Or, perhaps you are in the mood for a once-in-a-lifetime experience? In that case, you simply cannot miss a sojourn in the William Jefferson Clinton Suite, named after America's 42nd president, who actually stayed in this room. Located on the Penthouse level, with stunning views of open sea, this one-of-a-kind suite provides features such as a private rooftop shower and 2 stories of lavish opulence. Whatever accommodation you select, one thing is for certain—at Sandals Grande St. Lucian each room has a view destined to expand your horizons.

Dining at this resort is a culinary tour de force, with a choice of six enticing restaurants that offer settings from casual on the beach at Barefoot by the Sea, to casually elegant in opulent Italian surroundings at Toscanini's/ If your mood calls for light cuisine, enjoy made-to-order crepes in a charming French bistro at Josephine's. Or experience an authentic English pub, serving thick slices of prime rib and traditional pub fare such as fish n' chips. Whatever your choice, you'll be gratified by some of the best cuisine in the Caribbean. In the event your appetite calls for adventure, you are welcome to dine at 11 other restaurants at two nearby Sandals with our exclusive Stay at 1, Play at 3 Program.

There is a magnificent golf course with rolling hills and majestic fairways at nearby Sandals Regency St. Lucia . With 9 greens, the narrow fairways make the course a challenge for the best of golfers. Green fees and transfers are included. Caddies are not included but mandatory. Golf carts and clubs can be rented for an additional charge.
---
CLICK BELOW TO REQUEST
YOUR SANDALS RESORT
PRICE QUOTE.

---
CLICK ON ONE OF
THESE PICTURES
FOR MORE INFORMATION!!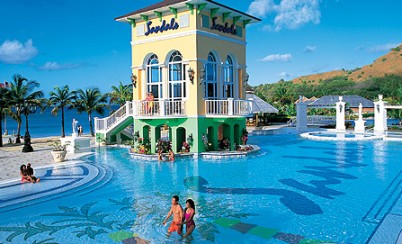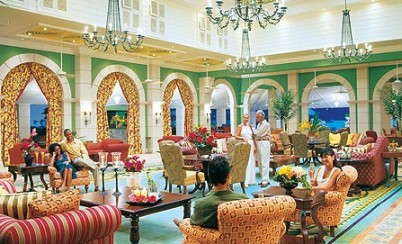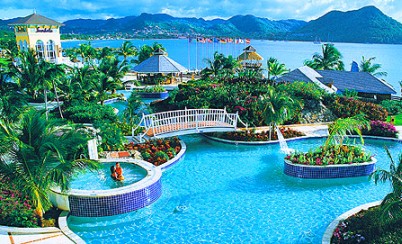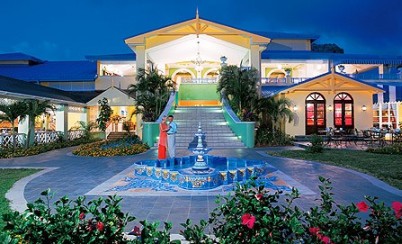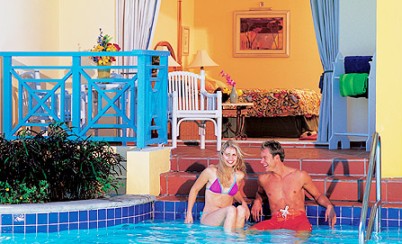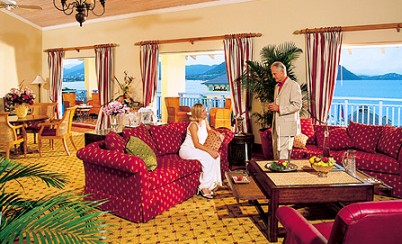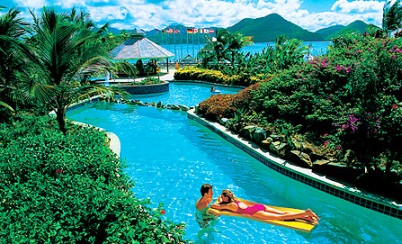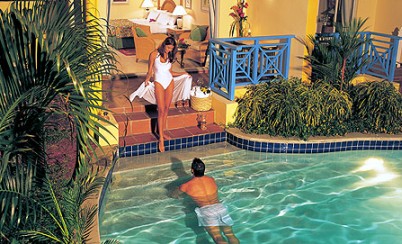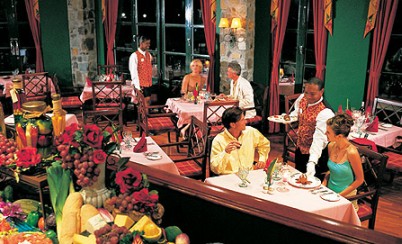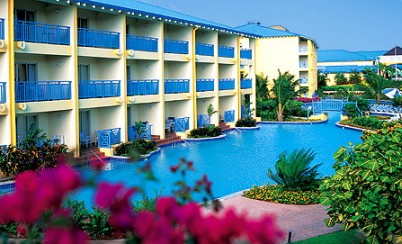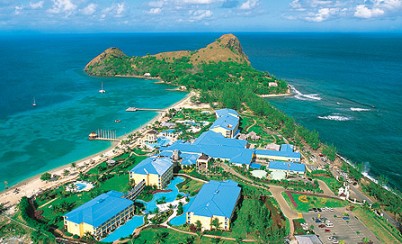 ---
CLICK BELOW TO REQUEST
YOUR SANDALS RESORT
PRICE QUOTE.

---
RESORT SPECIALS FROM SANDALS

There are 12 tropical COUPLES ONLY resorts on the enchanted isles of Jamaica, Antigua, St. Lucia and The Bahamas, created exclusively for two people in love.
---
RESORT SPECIALS FROM BEACHES
There are 4 tropical resorts on the enchanted isles of Jamaica, and Turks & Caicos, created exclusively for anyone. SINGLES, COUPLES, FAMILIES, FRIENDS, and ESPECIALLY YOU.
---
RESORT SPECIALS FROM GOGO VACATIONS

---
RESORT SPECIALS FROM FUNJET VACATIONS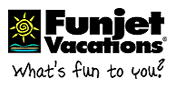 ---
RESORT SPECIALS FROM SUPERCLUBS

---
FOR SITE LINKS
CLICK BELOW
---
---
---
---
---
COMPANY MEETING AND GROUP CRUISE
---
---
VISIT OUR OTHER SITES
CLICK BELOW
---
---
Ultra-AllInclusive
Resorts.com
---
---
---
---