---
---
For your next business meeting, we can help. Need a private meeting room, cocktail reception, business training seminar? Take your business on board a cruise ship and see how productive a relaxed employee can be!

As a leader of your company, are you looking for new ways to inspire, motivate, or reward your staff? You can join the one of the latest and most productive trends, by booking a cruise:
For your employees, for a job well done.
For your sales team as a Presidents Club Reward.
For a group meeting and/or training seminar.
For your best workers.

Most ships now provide:
Full conference room capabilities.
Audio and video equipment.
Support as needed.

A Cruise Ship Product Marketing or Rollout Presentation could also make a favorable and lasting impression on your target attendees.

Salty Dog Cruise and Travel will book your group with all the needed amenities, and will coordinate with you every step of the way to make your cruise meeting a memorable, motivating, and productive experience.


---
RESORT SPECIALS FROM SANDALS

There are 12 tropical COUPLES ONLY resorts on the enchanted isles of Jamaica, Antigua, St. Lucia and The Bahamas, created exclusively for two people in love.
---
RESORT SPECIALS FROM BEACHES
There are 4 tropical resorts on the enchanted isles of Jamaica, and Turks & Caicos, created exclusively for anyone. SINGLES, COUPLES, FAMILIES, FRIENDS, and ESPECIALLY YOU.
---
RESORT SPECIALS FROM GOGO VACATIONS

---
RESORT SPECIALS FROM FUNJET VACATIONS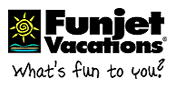 ---
RESORT SPECIALS FROM SUPERCLUBS

---