---
---


If you are responsible for a company seminar, a family reunion, any type organization, or just a group of friends, give Salty Dog Cruise and Travel a call and we will assist you in planing and booking an occasion that last forever in the minds of your group.

Your group may be an association; an athletic organization; a business organization; a club; a community organization; an environmental organization; your family; a fraternal organization; a labor organization; a political organization; a religious organization; a senior citizens organization; a school class; a veterans/military organization; or who cares.

All major cruise lines offer the cruise travel agencies free space every time we book a "cruise-line-defined" number of cabins per cruise. As a service to your group, Salty Dog Cruise and Travel will pass this savings on to our groups as a thank you for booking with us. The savings can be in the form of a reduction in all pricing (shared by all participants) on the cruise, or a free cabin for the tour leader for their effort in organizing the sailing.

The ratio of cabins booked to free allowances can vary by cruise line and by cruise, but normally there is one free cabin for each 15 cabins booked at double occupancy. If you are planning a group cruise, the cruise lines require that a group be made up of a minimum of 8 cabins, or 16 passengers based on double occupancy. The first 15 passengers pay a reduced group rate, but passenger number 16 pays only port taxes. Your group has received 1 free berth.. If your group has 32 passengers, then passenger 1 through 30 pay the reduced group rate but passengers 31 and 32 pay only port taxes. Now your group has received two free berths or 1 free cabin.
---
RESORT SPECIALS FROM SANDALS

There are 12 tropical COUPLES ONLY resorts on the enchanted isles of Jamaica, Antigua, St. Lucia and The Bahamas, created exclusively for two people in love.
---
RESORT SPECIALS FROM BEACHES
There are 4 tropical resorts on the enchanted isles of Jamaica, and Turks & Caicos, created exclusively for anyone. SINGLES, COUPLES, FAMILIES, FRIENDS, and ESPECIALLY YOU.
---
RESORT SPECIALS FROM GOGO VACATIONS

---
RESORT SPECIALS FROM FUNJET VACATIONS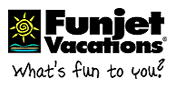 ---
RESORT SPECIALS FROM SUPERCLUBS

---